In a world as connected as ours is today, we can't afford to let the language barrier hold us back. But the hurdle is particularly high when it comes to Japanese and English. Luckily for you, translation is our forte. Let us help you reach a whole new audience. Request a free quote now!
We work with general content in both language pairs. General content means content that does not contain area-specific terminology or require knowledge specific to a certain area. But we also work with area-specific content as well. Click on a tab above to see our specializations for that language pair.
Specializations:
Marketing/Advertising
Software
Health & Fitness
Computers
Cinema/TV/Drama
Other working areas:
Travel/Tourism
Nutrition
Multimedia
Certificates/Diplomas
Literature
Cooking
Internet
And more…
Education
Music
Networking
Specializations:
Corporate Training
News/Current Events
Business Documents
Market Research
Intellectual Property
Education
Other working areas:
Finance
Mobile Games/Apps
---
Transcreation
In addition to normal translation, we also offer a service called transcreation in the Japanese to English language pair. While translation is enough to get a message across, transcreation focuses on eliciting the same emotional response from the target audience. Transcreation is truly adapting a text to the target language and culture. Think of it as copywriting, where all of the details like message, tone, style, etc. are already defined in the source text.

Transcreation is truly adapting a text to the target language and the target culture.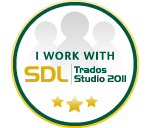 We can assist with projects that require SDL Trados 2007 or SDL Trados Studio 2011.
We can also work with Across if needed.